Lisa started working in the jewellery business over 36 years ago when she started gift wrapping and making the occasional sale at Christmas time in the family owned jewellery store in Mimico (Toronto), Ontario.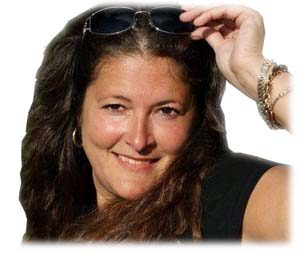 Seeing the the joy in people's  faces and watching them walk away knowing that they had just received an honest deal, instilled a philosophy in Lisa that she still goes by today, "It's not about the money".
In 1997 Lisa became the proprietor of A Pot O' Gold, her own jewellery store in the Burnhamthorpe Plaza at the corner of Burhamthorpe Rd. and Saturn Rd. in west Toronto.
As a professional custom jewellery designer, Lisa not only comes highly recommended in the Markland Woods / West Mall area of Etobicoke, she has established a North American client base and ships items from coast to coast in Canada and the U.S.A.
Repeat business and word-of-mouth are the main driving forces behind the success of A Pot O' Gold. Lisa is very appreciative of her clients and their continued patronage and it shows in the rapport that she has with them.
A Pot O' Gold supports local community organizations and charities and  Lisa has been officially recognized by The Children's Wish Foundation for her ongoing support. Lisa is very passionate when it comes to supporting youth sports teams.
A Pot O' Gold products and services include, custom & retail jewellery and accessories, gem stones, giftware, repairs and ear piercing. You will also find a large assortment of sporty or dress watches to suit any budget.
Casual & Formal Jewellery
For all occasions, for any budget, custom designs & engraving.
Engagement Rings & Wedding Bands
You can make your day even more special with custom designs.
Gift Giving Occasions
We manage our inventory to make those special days easy to shop for.
Casual & Dress Watches
Watches for him or her, Wittnauer, Bulova, Caravelle, Bering, Timex all in stock.